PBAPP EARNS 3RD CONSECUTIVE PENANG STATE GOVERNMENT INCENTIVE AWARD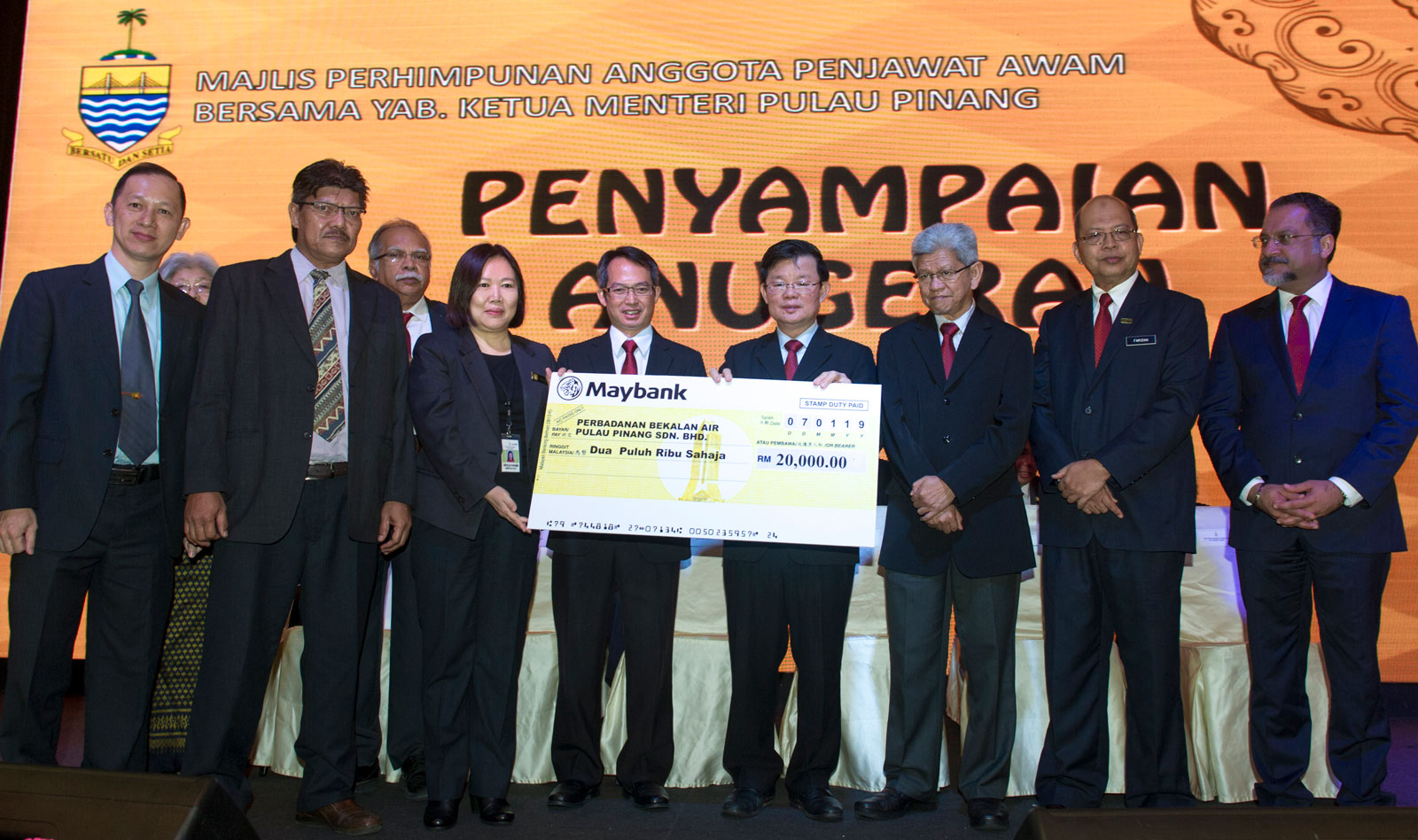 3.2.2020
PRESS STATEMENT
by Dato' Ir. Jaseni Maidinsa,
Chief Executive Officer,
PBA Holdings Bhd (PBAHB) and
Perbadanan Bekalan Air Pulau Pinang Sdn Bhd (PBAPP)
PBAPP EARNS 3RD CONSECUTIVE PENANG STATE GOVERNMENT INCENTIVE AWARD
"Best Achievement by a Penang State Government Department"
PBAPP received a total of 16 awards and certifications in 2019
PENANG, Monday, 3.2.2020: Perbadanan Bekalan Air Pulau Pinang Sdn Bhd (PBAPP) received its 3rd consecutive Penang State Government incentive award last Thursday (30.1.2020) .Penang Chief Minister YAB Tuan Chow Kon Yeow handed over the award to PBAPP during the "Public Service Personnel Gathering with the Penang Chief Minister" event in the Grand Ballroom, The Top, Komtar.
The citation for the RM15,000.00 incentive award was "Best Achievement by a Penang State Government Department" in 2019. PBAPP had previously won similar state incentives for its performance in 2017 and 2018.
PBAPP is a Penang State Government-linked corporation. State Secretary Penang holds majority shares and a golden share in PBA Holdings Bhd (PBAHB), our holdings company which is listed on the Main Board of Bursa Malaysia.
In 2019, PBAPP and PBAHB received a total of 16 awards and certifications from various government and non-government organisations.
These awards were for achievements in water supply engineering, water supply industry competency training, management, public service, environmental-friendliness, occupational safety & health, waste recycling research, employer-employee relations, laboratory testing and rewarding shareholders.
1st award to kick-off PBAPP's 21st year of service
PBAPP was corporatised in 1999.
Looking back, Penang's water consumption has increased by 20.4%, from 700 million litres per day (MLD) in 1999 to 842.6 MLD in 2019. The number of water consumers in Penang has also increased by 86.5%, from 338,523 consumers in 1999 to 631,250 consumers in 2019.
Through the years, PBAPP sustained continuous good water supply in Penang, with no incidence of water rationing. Despite the growth in water demand and a significant increase in the number of water consumers, PBAPP continued to sustain 100% urban and 99.8% rural supply coverage in Penang, in 2019.
2019 water test results also indicated that PBAPP's treated water is amongst the cleanest, healthiest and safest in Malaysia, based on the parameters set by Ministry of Health under its Quality Assurance Programme (QAP).
On behalf of the PBAPP team, I thank the Penang State Government for recognising and rewarding our good performance in 2019.
This "Best Achievement by a Penang State Government Department" incentive will serve as a strong motivational factor for us, as we mark our 21st year of service to Penang and its people, in 2020.