2000 – 2005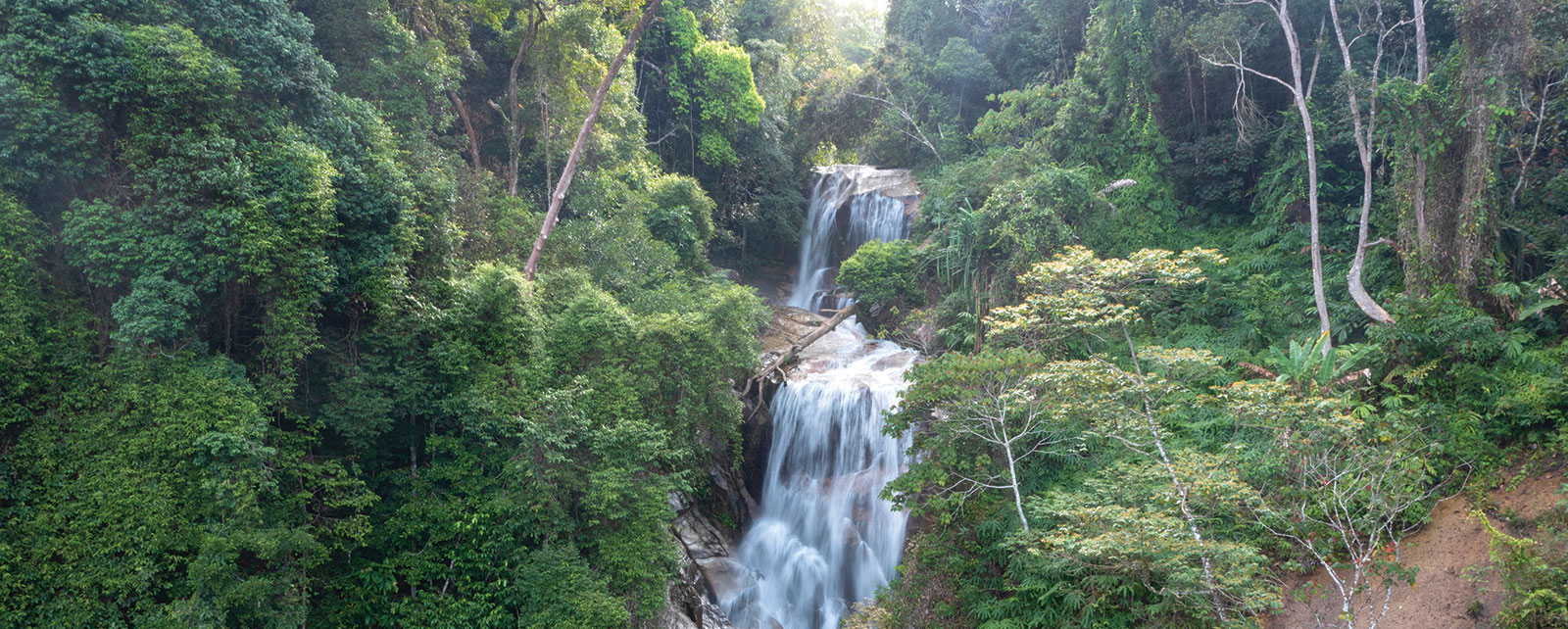 Titi Kerawang Water Catchment Area
2001

PBAPP set up its Customer Service Unit. As at 2021, this unit has become a Customer Care Department which manages 9 Customer Care Centres, in accordance to a "Friendly, Caring, Responsive" branding that was launched in 2009.
PBAPP started implementing a Strumap geographical information system (GIS) to integrate water supply engineering and consumer data, as well as aerial photography and a water catchment area plan to develop an online "Strategic Network Model".

2002

PBA Holdings Bhd (PBAHB), the holdings company for PBAPP, was listed on the Main Board of the Kuala Lumpur Stock Exchange (now known as Bursa Malaysia or the Malaysian Bourse) to raise public funding for Penang's water infrastructure projects.
This public listing marked the 2nd cornerstone of the corporatisation plan: securing Penang State Government control of PBAHB and PBAPP. At the point of public listing, the Penang State Government (via the entity "State Secretary Penang") held 54.9% of the shareholdings of PBAHB and a "special share". While individuals and organisations may invest in PBAHB, it will still belong to Penang and its people.
Meanwhile, the formation of the Boards of Directors completed the 3rd of the 3 cornerstones of corporatisation: The Chief Minister of Penang would be appointed as the Chairman of PBAHB and PBAPP. Effectively, he is given the responsibility of leading Boards of Directors comprising of senior state government officials and individuals appointed to serve as independent and non-independent directors, with Penang's best interests at heart.

2003
PBAPP became the first water supply operator in Malaysia to receive ISO 9001:2000 accreditations for its quality management system (QMS), with regard to continuous improvement in the field of "treatment and supply of water with the provision of customer services". As at 2021, PBAPP is managing its QMS in accordance to the newer ISO 9001:2015 accreditation.
2004
PBAPP helped the Penang State Government to draft a "Water Supply (Catchment Area) Order" under the Penang Water Supply Enactment 2004. This environmental-friendly legislation was enacted to protect 62.9 sq. km of green forestlands as state water catchment areas. In effect, it protected the habitats of thousands of species of flora and fauna in Penang.

The 2004 Order has since been superseded by a 2009 Order that has "upgraded" the protection scope by limiting all eco-friendly activities to areas located "downstream" of Penang's dams.

2005
PBAPP received ISO 14001:2004 accreditations for its environmental management systems (EMS) at the Batu Ferringhi Water Treatment Plant and the Teluk Bahang Dam from UKAS and DAR.As at 2021, PBAPP has migrated to the newer ISO 14001:2015 environmental management accreditation. Other PBAPP facilities which have been certified under this accreditation are the PBAPP Komtar headquarters, the Waterfall Water Treatment Plant and the Air Itam Water Treatment Plant.