2016 – 2020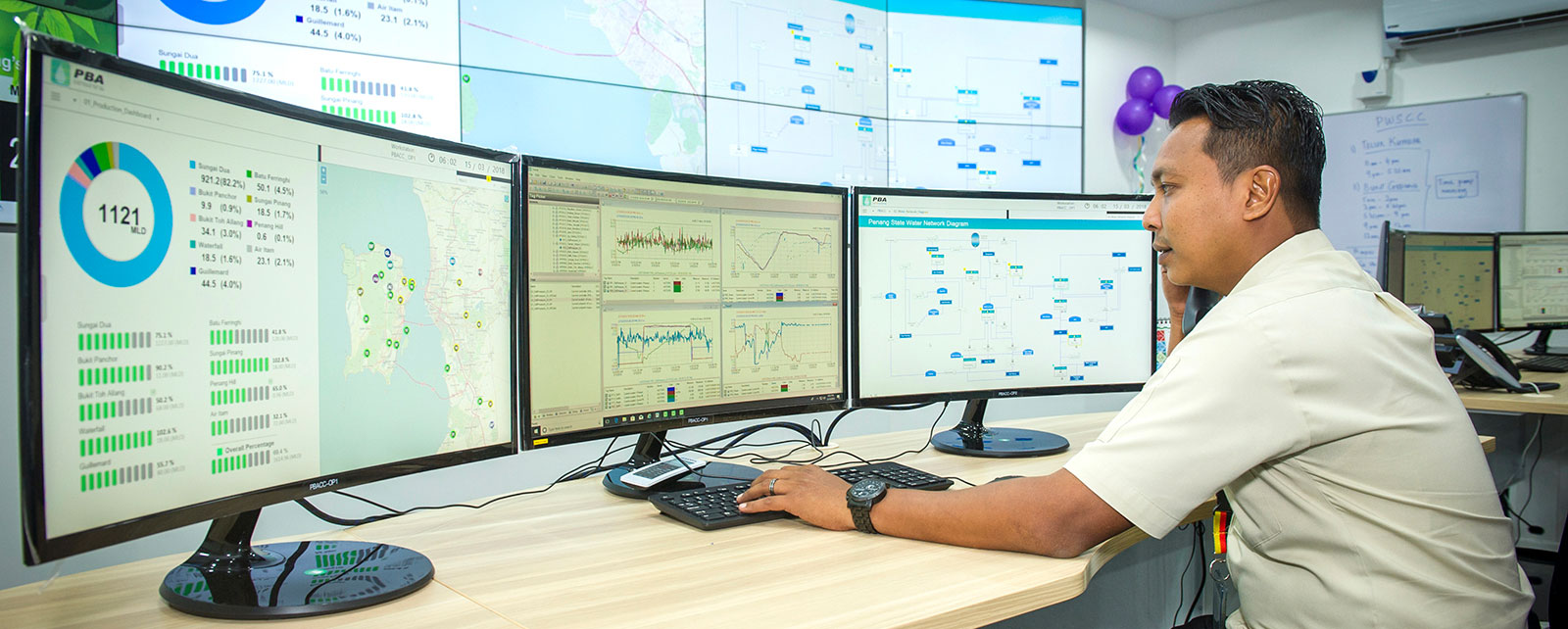 Penang Water Supply Command Centre
2016
The maximum water treatment capacity of the Sungai Dua WTP upgraded from 1,114 MLD to 1,228 MLD.
2017

PBAPP assisted Penang to become the first state in Malaysia to amend its local government by-laws to compel the mandatory installation of water saving devices (WSDs) in all new buildings in the state. This measure is aimed at promoting wiser usage of water and reducing per capita domestic water consumption through the installation of devices that automatically save water.
PBAPP launched the "myPBA" mobile app for water consumers to pay water bills, lodge reports and access information, notices and alerts regarding water supply services in Penang, via their online smartphones and tablets. The "myPBA" app is available from the Apple App Store and the Google Play Store.

2018

PBAPP launched the Penang Water Supply Command Centre (PWSCC) at the Sungai Dua Water Treatment Plant. The PWSCC integrates remote data transmitted from dams, water treatment plants, pumping stations, treated water reservoirs and major pipelines.
PBAPP received two national awards from the Malaysia Water Association (MWA): the Malaysia Water Industry Achievement Award for "Best Water Treatment Plant" (Sungai Dua WTP) and MWA Award for Management (Dato' Ir. Jaseni Maidinsa).

2019

PBAPP received the Prime Minister's Award for Leadership in Competency Training ("Anugerah Perdana Menteri Tokoh Mahir"). This award recognises leadership in championing, developing and promoting competency training programmes for the water supply industry in Malaysia, through the Penang Water Services Academy (PWSA).
PBAPP received the "Employer Excellence Gold Award" from the Malaysian Employers Federation (MEF).
PBAPP received an award for the "The Highest Returns to Shareholders Over Three Years in the Telecommunication, Media & Utilities Sector" during The Edge Centurion Club & Corporate Awards 2019 event.
PBAPP added another online payment option for customers with "JomPAY", allowing customers to pay their Penang water bills through e-banking portals, by using the biller code "50385".

2020

PBAPP continued to sustain continuous water supply services in Penang throughout 2020, as the Federal Government implemented a series of nationwide Movement Control Orders (MCOs) to combat the Covid-19 pandemic.
PBAPP unveiled the Penang Water Supply Initiative 2050 (PWSI 2050) in view of Penang's escalating raw water risks arising from climate change, "developments" in Kedah and the delay in the implementation of the Sungai Perak Raw Water Transfer Scheme (SPRWTS). This contingency plan mapped out 3 key project proposals to ensure water supply sufficiency until 2025: Package 12A of the Sungai Dua WTP, the Sungai Perai Water Supply Scheme (SPWSS) and Phase 1 of the Penang Desalination Water Supply Scheme (PDWSS). The PDWSS may be expanded to mitigate future raw water crisis scenarios. As at 2021, these projects are subject to approval by the Penang State Government.
PBAPP commissioned the 3rd Penang Twin Submarine Pipelines (3rd PTSP) project. With the deployment of the 3rd PTSP, the maximum pumping capacity of treated water from the Sungai Dua WTP to Penang Island has been increased from 393 MLD to 708 MLD.